Two years ago, I attended the South Philly Pizza Olympics. A fun bargain event (but seriously over-crowded). Most pizzamakers had boxes of their pies brought it - and of course the quality suffered. Pizza quickly got to room temperature, and it steamed itself soft inside the delivery boxes. You can see my Full Recap Here.
Roman pizza at Nomad Roman, Philadelphia. Click any pic to enlarge!
The easy winner was Nomad Pizza, because they were churning out fresh and wonderful Neapolitan pies from the wood-fired oven in their 1949 REO Speedwagon.
At the 2012 South Philly Pizza Olympics
Nomad had, at that time, three "locations" including Philly, Hopewell NJ, and that mobile truck. Not long ago (October 2013), another Philly location made its debut at 1305 Locust Street - Nomad Roman.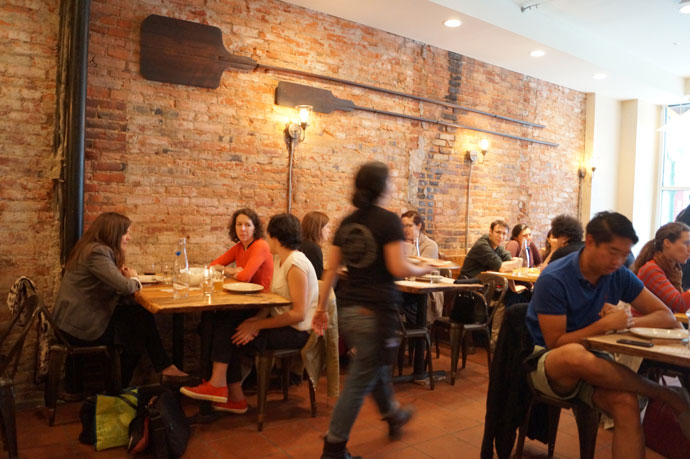 Inside Nomad Roman (from philly.thedrinknation.com)
All the other Nomad locations make Neapolitan pie - the city's best, according to Inquirer food critic Craig LaBan. Neapolitan is that smallish, puffy, charred and chewy style of pizza that is typically cooked in under two minutes at temps from 800 to 1000 degrees. Purists (not me) will insist on San Marzano tomatoes and Bufala mozzarella.
Italy's most famous city, Rome, does not enjoy the same pizza reputation as its southern neighbor, Naples. But there are at least two distinct styles of Roman pizza.
Pizza al taglio, et al, in Rome
One is pizza al taglio (pizza by the cut) which is sold as slices. Typically baked as a large rectangle, the slices are squarish, with a medium thickness to the crust. It may sometimes look like a Sicilian pizza, but it's not thick and doughy. Pizza al taglio was spectacular at Forno Marco Roscioli in Rome (full review HERE).
Pizza al taglio at Jules Thin Crust
The Philly region is fortunate to have a few sources for al talgio pie - the funky stuff from local mini-chain Jules Thin Crust (reviewed HERE), the imaginative slices at Bufad in Philly's hipster frontier (reviewed HERE), and the magnificent $6 slice at Pizzeria Vetri (reviewed HERE).
Pizza al taglio at Bufad in Philly
Pizza al taglio at Pizzeria Vetri
The other style of Roman pizza is a round pie with an exceptionally thin crust. The crust is just as thin but not as crisp or crackerlike as a classic American bar pie (as found at Lee's Tavern in Staten Island) or a midwestern party-cut pie (like Rubino's in Columbus OH). The crust on a round Roman pizza is more akin to a very thin Neapolitan - and that is the pie being made at Nomad Roman.
Midwestern pie with "party cut" at Rubino's
In Rome, this round pie was a revelation. It was only 13 or 14 inches across, and sold unsliced. I ordered the simple Marinara pie there at Montecarlo (reviewed HERE), which was assembled with just crust, sauce, and some garlic. Simple, brilliant, elegant, delicious. But so much more a snack than a meal.
Roman pizza at Montecarlo, in Rome
I haven't had a pie like that until Nomad Roman. I prefer to eat a pizza at the source, because most pies suffer from travel. But circumstances dictated take-out, so I called ahead and ordered one $11 Marinara pie (to compare to my experience in Rome) and one $16 "Spicy Soppressata" pie with fresh mozzarella, soppressata, parmesan, honey, and red pepper flakes.
On this Thursday summer night around 8:30, the tables were about half full. Importantly, the staffer who took my call was alert, polite, and made sure that the kitchen staff did not slice the pies, per my request. The interior was cozy and inviting - I know I will be back to experience the pie in-house.
I didn't have opportunity to taste the pies that night, so they spent an evening in the refrigerator. The next evening, I reheated them on my gas grill, which was pretty easy because they were not yet sliced. Because the pies were so thin, each was ready in about 3-4 minutes, and they returned to crispness without drying out.
Marinara pie from Nomad Roman
Both 13" pies were spectacular to look at - pizza suitable for framing. The Marinara pie was remarkably similar to the one I had in Rome; clearly the chefs at Nomad understand the round Roman pie. The crust was one of the thinnest I've ever had, yet it held up well under the toppings. It was pale in its base, with leopard char spots like a Neapolitan, but without the puffy handles.
Spicy Soppressata pie
Every element of each pie had its own distinct flavor - crust, cheese, soppressata, Italian tomatoes, even the red pepper flakes - and they also worked in perfect harmony. The texture was likewise al dente - a little crisp, a little soft, but never soggy.
Underside
I cut both pies into six slices and then ate two slices of each pie, but I could have easily eaten both entire pies. By my estimate, each whole pizza had fewer calories than one slice of conventional pizza. This is indeed pizza as a snack, or as an appetizer. Other than the basic ingredients of crust, tomato, and cheese, this pie has little in common with the cheesy/greasy belly-filler role of most American pizza.
Wafer-thin crust
Conclusions? Wonderful stuff in every way. I found nothing to criticize and plenty to love. Great ingredients, wonderful concept, artfully fulfilled. Destination pizza, worth the trip - there should be a long line out the door for this authentic rendition of Roman pizza.